Uthuru Janani Power Station - Chunnakam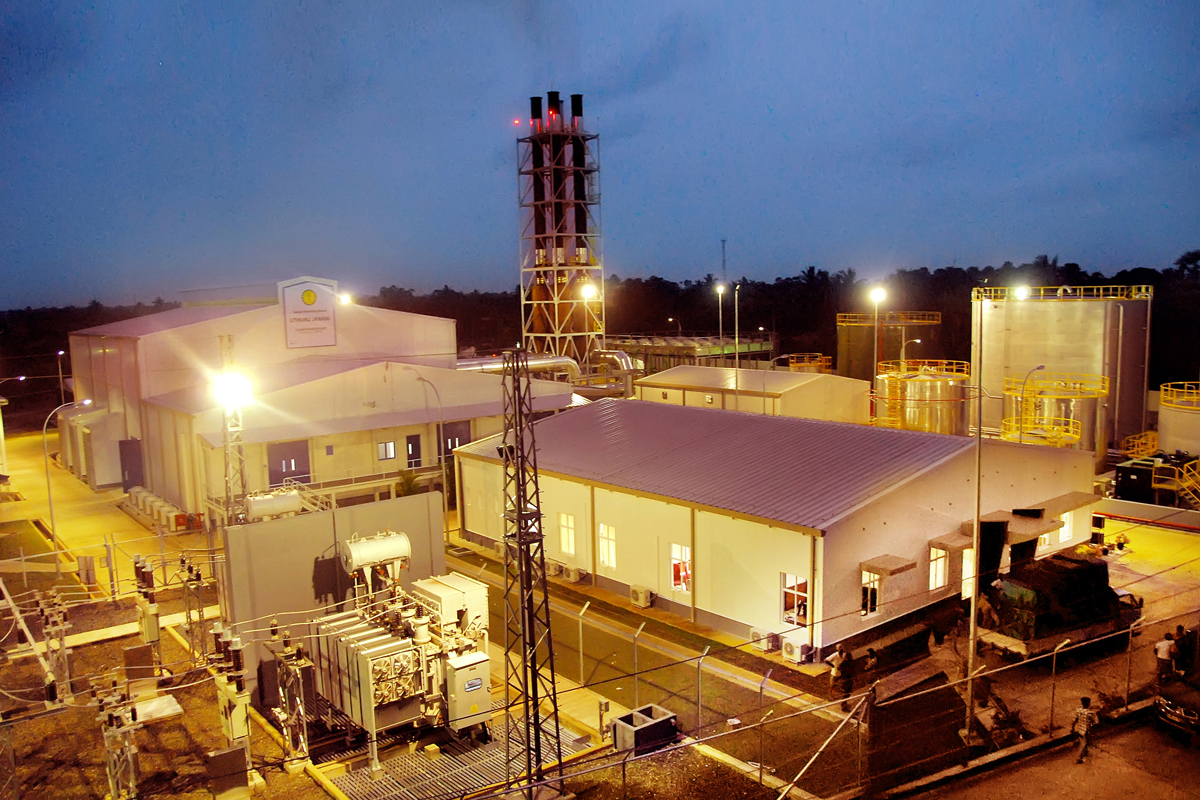 Salient Features
• Plant from scrap to commissioning completed within very short time of 8 months
• Main fuel is Heavy Fuel Oil (HFO) with viscosity of 180 cSt @50'C which costs less than the auto diesel.
• Engines can be started directly from HFO when kept at hot standby.
• Any oily water or fuel sludge is treated properly in environmentally friendly way before discharge.
• Sufficient fuel and lube-oil storage facility and unloading facility by bowsers.
• Comprehensive fire detection and fighting system.

The Uthuru Janani Power Station is a thermal oil power station owned and operated by the Ceylon Electricity Board (CEB) with total installed capacity of 24MW. This power station is located in Chunnakam, Sri Lanka which is 10 km away from Jaffna city. The project cost was LKR 3.5 billion.

Figure 1: Power Station front view and the switchyard
This power station consists of 03 diesel generator sets each having the capacity of 8MW. Medium speed 20V32 type engines were manufactured by Wartsila Finland Oy, while the synchronous alternators were made by AVK Germany. The annual generation capacity is 176 GWh. This power station was commissioned in January 2013 when the Jaffna peninsula was not connected with the national electricity grid.
Figure 2: Engine Hall
The construction work of this power plant was commenced in May 2012 and completed in December 2012. The EPC contracting was done by Lakdhanavi Limited. This power plant was built by local engineers.
There are two EMCO step-up transformers with rating of 11/33kV, 20MVA are installed there with two LTL step-down transformers rated 11/0.4kV 1.25MVA. The outgoing line is connected with the Chunnakam 132/33kV Grid substation at 33kV voltage level. A 250kVA Black Start generator is there for plant backup for critical loads.
The station battery system is rated at 110V DC with dual battery chargers.

Figure 3: Tank Farm
This power plant comprises modern technology in environmental management such as oily water treatment plant, Sludge incinerator etc. Sufficient fuel storage tanks for HFO are available for roughly one month full load running of the plant. A separate fuel treatment house is built to remove impurities from the heavy fuel oil (HFO) before directing to the engines. Two heat recovery boilers are installed at the engine exhaust to extract waste heat so that steam can be produced for HFO heating purposes. As a backup for these boilers, there is a diesel fired auxiliary boiler made by ALFA LAVAL.

A SCADA automation system is present at the plant and the via the WOIS interfaces of the engines, all the control and monitoring can be performed from the control room.

Figure 4: Control Room with SCADA Terminals
The fuel cost to generate one electricity unit from Uthuru Janani Power Station is approximately Rs.21.57 when the HFO price is at 100.1567 Rs/Liter.(Fuel Cost RS.96.00 + Transport Rs.4.1567)